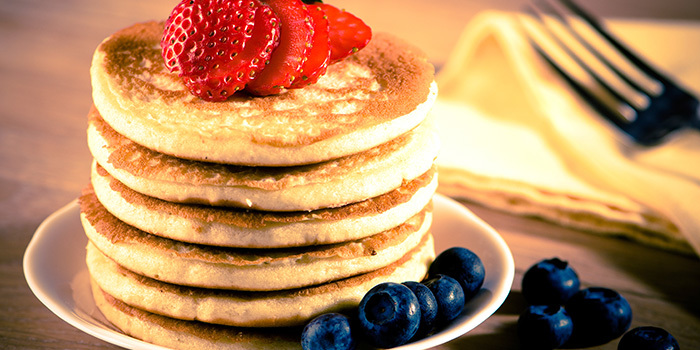 Total Time: 19 min.
Prep Time: 10 min.
Cooking Time: 9 min.
Yield: 6 servings, 1 pancake each
Ingredients:
1 cup nonfat cottage cheese
6 large eggs
½ cup whole wheat flour (or ¼ cup whole-wheat and ¼ cup barley flour)
1 Tbsp. coconut oil, melted
1 pinch sea salt
1 tsp. pure vanilla extract
¼ cup nonfat milk
Nonstick cooking spray
Preparation:
1. Place cottage cheese, eggs, flour, oil, salt, and extract in a blender or food processer; cover. Blend until smooth.
2. Add milk slowly to reach batter consistency.
3. Heat a large nonstick skillet lightly coated with spray over medium-high heat. Ladle ¼ cup batter for each pancake; cook for 2 to 3 minutes, or until bubbles cover the top. Flip; cook for an additional minute, or until golden brown. Repeat with remaining batter.